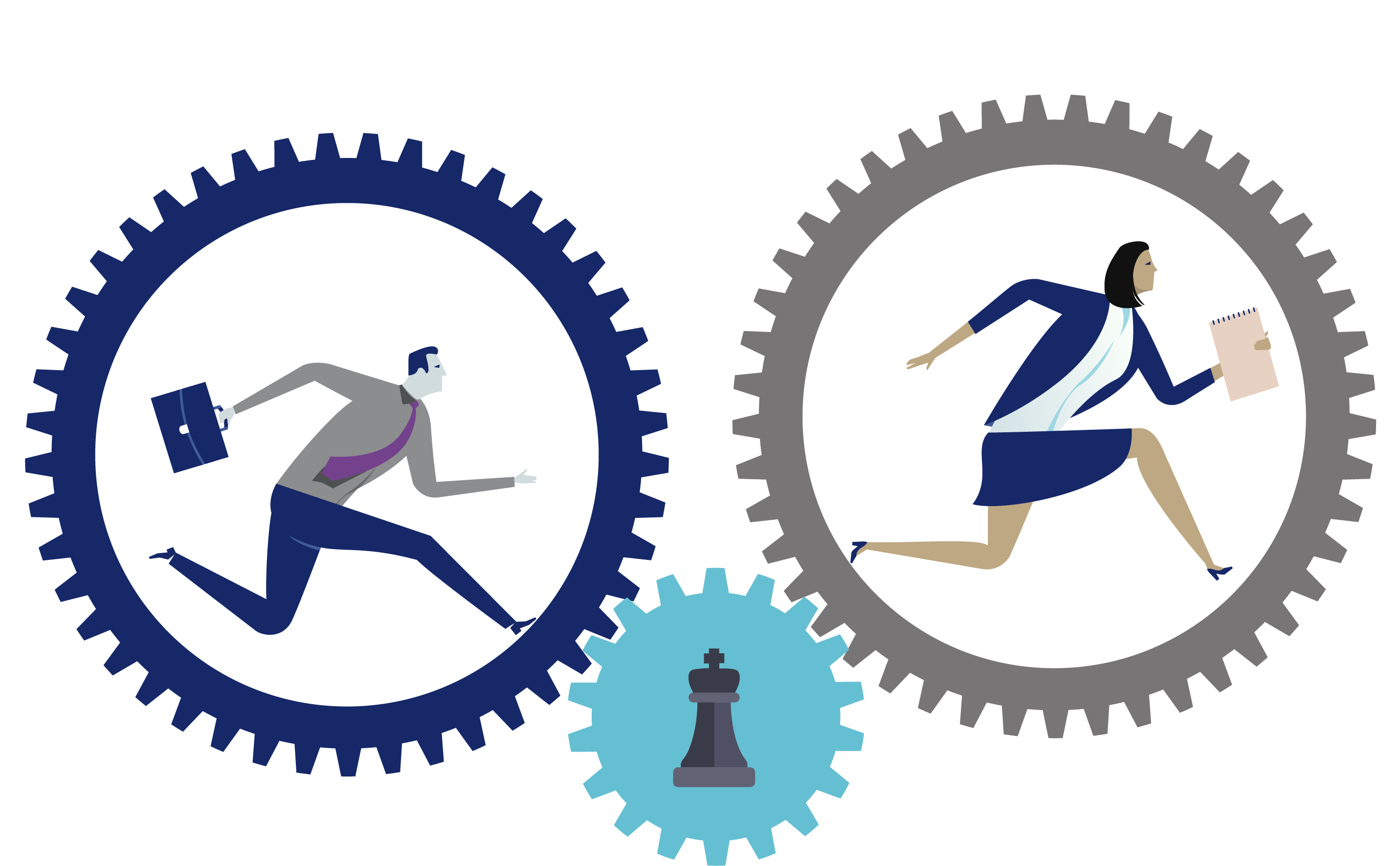 Strategy Execution Professional Certification
Practical Strategy Execution:
Learn How to Make Strategy Happen
The program teaches leaders, managers, and analysts how to take an existing strategic plan and establish strategy implementation processes to ensure that enterprise-wide strategy is executed well. It is not a course on strategy development or planning, but rather a course on how existing strategic plans can be improved and implemented.
Participants will leave this course with a customized Roadmap for executing their organization's strategy. The program recognizes that "one size does not fit all" and that each organization is unique. Each delegate's RoadMap will include recommendations for improving processes and for regularly evaluating the effectiveness of strategy execution.
Strategy Execution Professional Certification
The Strategy Execution Professional Certification program teaches delegates practical tools and techniques for successfully executing strategy. The course program is organized around major management processes that have a direct impact on successful strategy implementation. The course is built around five strategy execution "Imperatives" that we and other experts have found contribute significantly to strategy implementation and performance excellence.
The program also recognizes that creating a high-performance organization is a change initiative and includes a change management and communication module to help ensure that a performance culture is developed so strategy implementation can take hold and help move the organization to higher levels of accountability and performance.
Using lectures, open ended group discussions, delegate experiences, and tailored exercises, the program identifies tools, techniques, and best practices that course delegates can use in their organization. The capstone of the certification course is a customized action plan – My Strategy Execution RoadMap – that delegates develop in real time as they study, discuss, and complete exercises in each Imperative. The finished RoadMap contains specific steps that can be applied in delegate organizations to improve the likelihood of strategy execution success.
Price: $3,600
Available discounts for courses hosted in the United States
Early Bird Discount

Save $300 if you register 30 days before the course starts

Public Sector Discount

Save $150 if you work for a non-profit or a government organization

Group Rate Discount

Save $300 each if your team of 3 or more register for the same course
Schedule and Registration
---
Program Overview
While many leaders, managers, and analysts are comfortable creating a strategic plan for moving their organization forward, many organizations struggle to turn abstract goals and strategies into reality. This training program aims to equip participants with the necessary skills to effectively implement their organization's strategy by focusing on five key strategy execution imperatives. Unlike traditional strategic planning courses that concentrate on goal setting, this hands-on course allows delegates to work with proven tools, techniques, and interventions that are essential for turning strategy into action. The course is suitable for all organizations and sectors, regardless of the strategic planning framework used to create their plan. It begins with a brief introduction to strategic planning, enabling organizations without a strategic plan to learn how to adopt best practices to develop and successfully implement one.
Created by the Strategy Management Group (SMG) and the Balanced Scorecard Institute (BSI) and offered in association with the George Washington University Center of Excellence in Public Leadership, the Strategy Execution Professional Certification program provides participants with the tools they need to improve and execute existing strategic plans. The five authors of the course have over 125 years of combined training and consulting experience in strategy, strategic planning, performance measurement and management, and strategy execution in over 50 countries.
Program Details
Sessions include lectures, individual and small group exercises, readings, group discussions, surveys, Q and A's, visiting expert presentations, real-world examples of successful strategy implementations, and a delegate project tailored to their organization.
Session Lecture
An expert consultant will present content to the entire class. Much like our other educational webinars, this presentation will intersperse polling questions and other activities and will include a Q&A session at the end.
Session Small Group Exercise
Delegates will be split into small groups and will be tasked with completing a small group exercise via web conference. All exercises will be facilitated by an expert consultant. Participants are required to engage via web camera and microphone.
Reading, Quizzes and Exam
Sessions will be complemented with reading assignments, quizzes (not graded), discussion board dialog, and small-group instructor feedback. Upon completion of the course, participants may take and pass the online Strategy Execution Certification Exam to become certified.
---
Course Benefits
Participants will:
Apply strategy execution tools and solutions for overcoming issues and challenges related to strategy execution in their organizations
Understand how five imperatives that are critical to successful strategy execution can be incorporated into your strategy implementation efforts:

Leadership and Governance
Creating a Performance Culture
Aligning and Operationalizing Strategy
Strategic Project/Portfolio Management
Performance Analysis, Reporting and Informing

Learn how to test an existing strategic plan for implementation success, and incorporate agility and innovation to make strategy implementation easier and more successful
Understand how important clear communications and change management are to achieving successful strategy execution and creating a more high-performance organization
Create a customized My Strategy Execution RoadMap for your organization
---
Who Should Attend?
This course is recommended for managers, planners, analysts, and others who are charged with implementing plans and delivering results. The course is highly recommended for members of Executive and Senior Management teams, Program and Policy Analysts, Project Managers, and strategy professionals, and performance management teams. The course is also ideal for any business professional who wants to keep abreast of the latest thinking in strategic planning, alignment, strategic program and project management, performance measurement, and strategy execution. Organizations will benefit the most by sending teams to the course who are seeking the best practical ideas for successful strategy implementation in their organizations.
Business and support unit employees will benefit from seeing how strategy is aligned from enterprise level to their level and how plans are implemented to produce results. Enterprise-wide leaders and managers will benefit from learning how to successfully implement the strategy execution imperatives at all organization levels.
---
The Value of Online Training
Online courses are minimally discounted compared to our live in-person courses. Just as many Universities have found, the cost related to offering a quality course online are just as high, if not higher, than offering a course in person. Direct interaction with experienced SMG consultants is integral to the quality of all our programs, live or online. SMG consultants facilitate all interactive exercises in addition to the lecture, so each participant will likely see 120-180 minutes of instructor time each week, in addition to discussion board and homework review. The value of the content is the same, only the delivery is designed to meet the needs of those that can't (or don't want) to travel or be away from their office for five days.
---
About Our Partnership
In order to provide a seamless, high quality learning experience for the current and aspiring strategy leaders, SMG has partnered with The George Washington University's Center for Excellence in Public Leadership (GW CEPL), a part of the College of Professional Studies.
Together, our partnership will provide the rigorous, academically grounded, leadership development-focused content and learning environment that is the hallmark of GWU's executive education programs. Our partnership also offers the critical bench strength in teaching, consulting, and program support that enables the highest quality of client support.
---
Continuing Education Units
All SMG Certification Program participants qualify for GWU Continuing Education Units. Attendees completing this program qualify for CEUs.
Digital Certification Badges Available
The Institute Way
"This is one of the best professional courses I've taken in my career. I will be able to apply the learnings immediately when I return to the office."
"Best professional course I've ever taken! The demands are endless."
"This course converted me from a skeptic into a believer."
"Finally, a comprehensive approach that makes sense and ties all of our tools together"