Regardless of what type of strategy planning system your organization utilizes, there is one thing you can be assured of;  not everything will go as planned.  Former world heavyweight boxing champion Mike Tyson put it bluntly, "Everyone has a plan until they get punched in the mouth."  Former U.S. President, Dwight D. Eisenhower stated it like this"…the very definition of "emergency' is that it is unexpected, therefore it is not going to happen the way you are planning."
While strategy can fail for any number of reasons, it is the leadership of an organization that bears the responsibility for ensuring the successful execution of an organization's strategy. Another Eisenhower quote simply states, "Leadership consists of nothing but taking responsibility for everything that goes wrong and giving your subordinates credit for everything that goes well." 
There are a number of reasons why leaders are unsuccessful. In some cases, leaders are simply out of touch or living in the past. They have failed to stay abreast of the changing times in a changing world. Other leaders may have delegated responsibility to incompetent staff or have allowed "venomous" individuals to be able to exert too much power and influence within the organization leading to chaos, dissent and dysfunction. Another problem may be incompetence at the top level of the organization based on the "Peter Principle," where people advance up the chain of command until they reach their level of incompetence. Finally a fourth area that can severely hamper an organization is organizational structure and bureaucracy.
Effective leadership starts with an individual in a leadership role who is effective in delegating responsibilities and empowering employees with the ability to accomplish what needs to be done. Leaders must inspire their subordinates to action, challenging them to perform at the highest possible level and developing future leaders for the organization. Simultaneously, the effective leader will also be building a culture of trust. Outstanding leaders not only are able to accomplish these things, but also create a culture with a positive view of change and accountability.
Granted, a leader cannot do it alone. He or she must build a team of individuals who are aligned for the purpose of obtaining organizational excellence and achieving the organizational goals. Effective leaders listen and observe; they solicit honest feedback and recognize what the healthy heartbeat of their organization looks like. They are not micro-managers, nor dictators, but rather have the ability to build and encourage teamwork and creativity. Leaders must learn to exercise discretion in selecting future leaders and managers in the organization and should also not be afraid to address issues and individuals detrimental to the success of the organization.
The fact is strategy often does fail. Sometimes it may be the right people were not included in the effort, or perhaps the goals set forth in the strategy were unrealistic to begin with. Maybe the organization lacks accountability, honesty and is resistant to change. Whatever the reason, leadership, in one way or another bears the responsibility for the failure. Often, the tendency is to shift the blame to lower levels of the organization, but in truth, strategy failure ultimately falls on the executive level of leaders in the organization.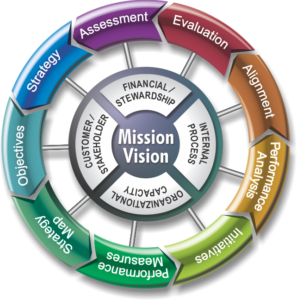 The Nine Steps to Success™ methodology for building a balanced scorecard is one approach that supports the empowerment and delegation of responsibility throughout the organization. It utilizes a healthy cross-section of employees from throughout the organization, obtains their commitment and buy-in and fosters active and open communication through all levels of the organization. As a result, silos begin to disappear, employees become engaged, energized and responsive to change. Communication improves and the organization moves towards alignment and becoming an organization of continual improvement.
For more information on the Nine Steps Balanced Scorecard process or to see how it could work for your organization, contact info@strategymanage.com
Sources:
Business Strategy – The Art, Science and Craft of Decision-Making: Failure of Strategies, Retrieved from: https://en.wikibooks.org/wiki/Business_Strategy/Failure_of_Strategy
53 Insightful Dwight D. Eisenhower Quotes that Are Timeless. Retrieved from: https://quotes.thefamouspeople.com/dwight-d-eisenhower-1270.php
Organizations from Hell: When Leadership Fails, Ronald E Riggio, Ph.D., 2019, Retrieved from: https://www.psychologytoday.com/us/blog/cutting-edge-leadership/200906/organizations-hell-when-leadership-fails
South Florida Sun Sentinel – Mike Tyson Explains One of His Most Famous Quotes, Retrieved from: https://www.sun-sentinel.com/sports/fl-xpm-2012-11-09-sfl-mike-tyson-explains-one-of-his-most-famous-quotes-20121109-story.html